Our Fitness Classes Are Back!!!
We're excited to be re-introducing our excellent range of classes. Click HERE to find out more about our class timetable. Please do keep checking the website for updates on the timetable.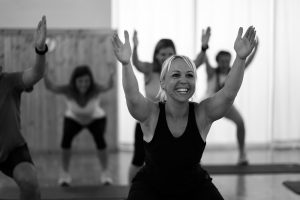 Class Descriptions
Zumba Gold
An exercise class to different dance styles such as, salsa, merengue, mambo, flamenco, chachacha, samba and tango. Zumba is one of the most versatile fitness workouts, Zumba Gold is slightly easier to follow, designed for senior members and beginners.
Yoga
This class is designed to relax and distress. It uses flowing movements and postures to sculpt the body and increase flexibility. A great class to relax.
Circuit
This class will help conditioning your whole body using resistance training and cardio exercises. It targets muscular endurance and is great for losing weight and toning up, the class is designed using stations around the room and with a time period on each station before moving onto the next exercise station.
BTT
A workout suitable for all levels and abilities specifically targeting the bums, tums and thighs.
Aerobic Attack
This class will focus on cardiovascular fitness and muscular strength and endurance by offering a challenging aerobic workout, great for calorie burning and improving fitness.
Core 30
A 30 minute freestyle class targeting your core, front, back and sides for a complete abdominal workout.
BoxFit
A session for all abilities, involves the use of pad work as well as a fitness workout such as skipping, jogging and toning exercises.
Kettlecise
The class purely uses kettlebells and focus on an all-over body workout, excellent for your core strength and general fitness, be prepared to ache after trying this new piece of weighted equipment. Mix it up.
Body Conditioning / Weights Workout
A great whole body workout, using resistance training and cardio exercises. It targets muscular endurance and is great for losing weight and toning up.
HITT
A High-Intensity Interval Training class aimed at all fitness levels, if you're looking to burn off some extra body fat, build some lean muscle or simply improve your fitness then this class ticks all the boxes. get ready to sweat!
Aqua
A workout in the water, great if you're new to exercise or recovering from injury as it has less impact on the joints when submerged in water.
Pilates
Pilates is a method of exercise that consists of low impact flexibility and muscular strength/ endurance movements to improve core strength.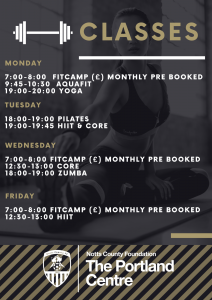 Group Exercise and Studio Etiquette
To ensure we offer a consistent quality of service we would ask all customers kindly to adhere to our group exercise and studio etiquette:
Please do not enter the class until the current class has finished
Please be on time. If you are more than 5 minutes late and the warm up has ended, you will not be allowed entry
If you are new to the class, please speak with instructor prior to the start of the class to gain insight on the format so they can give you some helpful tips
From January 2018 all classes will be bookable up to a week in advance, this can be done at reception or by calling up over the phone and booking your space
If you pre-book and do not attend the class, you will be given a strike. If you receive 3 strikes within a 5 week period you will not be able to pre book a class for the following 2 weeks
Water must be brought to the class in an unbreakable bottle, please ensure this is filled before the class, the instructor will give you breaks during the class to refill this
Under NO circumstances are the following footwear acceptable; flip flops, sandals, jeans or work boots
Appropriate attire must be worn. Trainers are requires for all classes accept Pilates/ yoga
Please save conversions/ discussions between other class participants until the end of the class, talking in a class may distract the instructor and other customers trying to follow instruction.
We recommend you bring a towel
All equipment should be returned to the correct storage area once the class has finished
Please place litter in the bin provided
If your health changes, please advise the instructor who will be able to offer you alternative exercises
Only children aged 8 and up may attend the boxing class on Tuesday and Thursday evenings.
If a class has been cancelled and you are already booked onto it, we will make every effort to contact you, unless you have requested otherwise.
Failure to respect and adhere to our etiquette may result in you being asked to leave the class/facility. Many thanks for your cooperation.