We're excited to be re-introducing our excellent range of classes. Click HERE to find out more about our class timetable. Please do keep checking the website for updates on the timetable.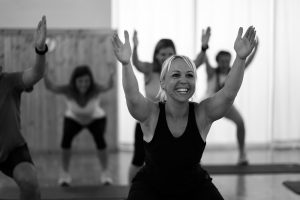 Class Descriptions
Aquafit
This class gives a great cardiovascular workout, gently increasing your pulse and breathing rate, so it's great for helping to improve your heart health. It strengthens and tones muscles – the resistance of the water means that opposing muscle groups are worked in each movement as you push and pull against it.
RockBox Fitness
The full body workout taking aerobics to a whole new level! A stress busting session for the body and mind…Punch, kick, and drum sticks to classic and modern rock tunes! (air guitars included!)
Stretch & Flow
This Fusion class is designed to relax and de-stress using flowing Yoga, Pilates and Ballet movements and postures to sculpt the body and increase flexibility while incorporating gentle aerobic exercise.
H.I.I.T & Core
High-intensity interval training (HIIT) workouts require bursts of high-intensity exercises followed by brief periods of recovery with Core/Abdominal exercises added for a full body workout.
Zumba
Zumba is an interval-style dance fitness party that combines low-intensity and high-intensity moves. You'll burn lots of calories as you move to the rhythm with Latin-inspired dance moves.
Abs Blast
This class will concentrate on strengthening your core muscles. Including your abdominal muscles, back muscles and the muscles around the pelvis. This includes twisting, crunches, planks, among other core exercises. Strong core muscle helps us to carry on with our daily physical routines without back pain or injuries.
BoxFit
A high energy, non-contact fitness class. Boxfit incorporates age old boxing techniques and fresh new exercises resulting in an all over body workout that is also an excellent stress buster.
Group Exercise and Studio Etiquette
To ensure we offer a consistent quality of service we would ask all customers kindly to adhere to our group exercise and studio etiquette:
Please do not enter the class until the current class has finished
Please be on time. If you are more than 5 minutes late and the warm up has ended, you will not be allowed entry
If you are new to the class, please speak with instructor prior to the start of the class to gain insight on the format so they can give you some helpful tips
From January 2018 all classes will be bookable up to a week in advance, this can be done at reception or by calling up over the phone and booking your space
If you pre-book and do not attend the class, you will be given a strike. If you receive 3 strikes within a 5 week period you will not be able to pre book a class for the following 2 weeks
Water must be brought to the class in an unbreakable bottle, please ensure this is filled before the class, the instructor will give you breaks during the class to refill this
Under NO circumstances are the following footwear acceptable; flip flops, sandals, jeans or work boots
Appropriate attire must be worn. Trainers are requires for all classes accept Pilates/ yoga
Please save conversions/ discussions between other class participants until the end of the class, talking in a class may distract the instructor and other customers trying to follow instruction.
We recommend you bring a towel
All equipment should be returned to the correct storage area once the class has finished
Please place litter in the bin provided
If your health changes, please advise the instructor who will be able to offer you alternative exercises
If a class has been cancelled and you are already booked onto it, we will make every effort to contact you, unless you have requested otherwise.
Failure to respect and adhere to our etiquette may result in you being asked to leave the class/facility. Many thanks for your cooperation.